Serving radio operators in Johnson County, Tennessee and surrounding areas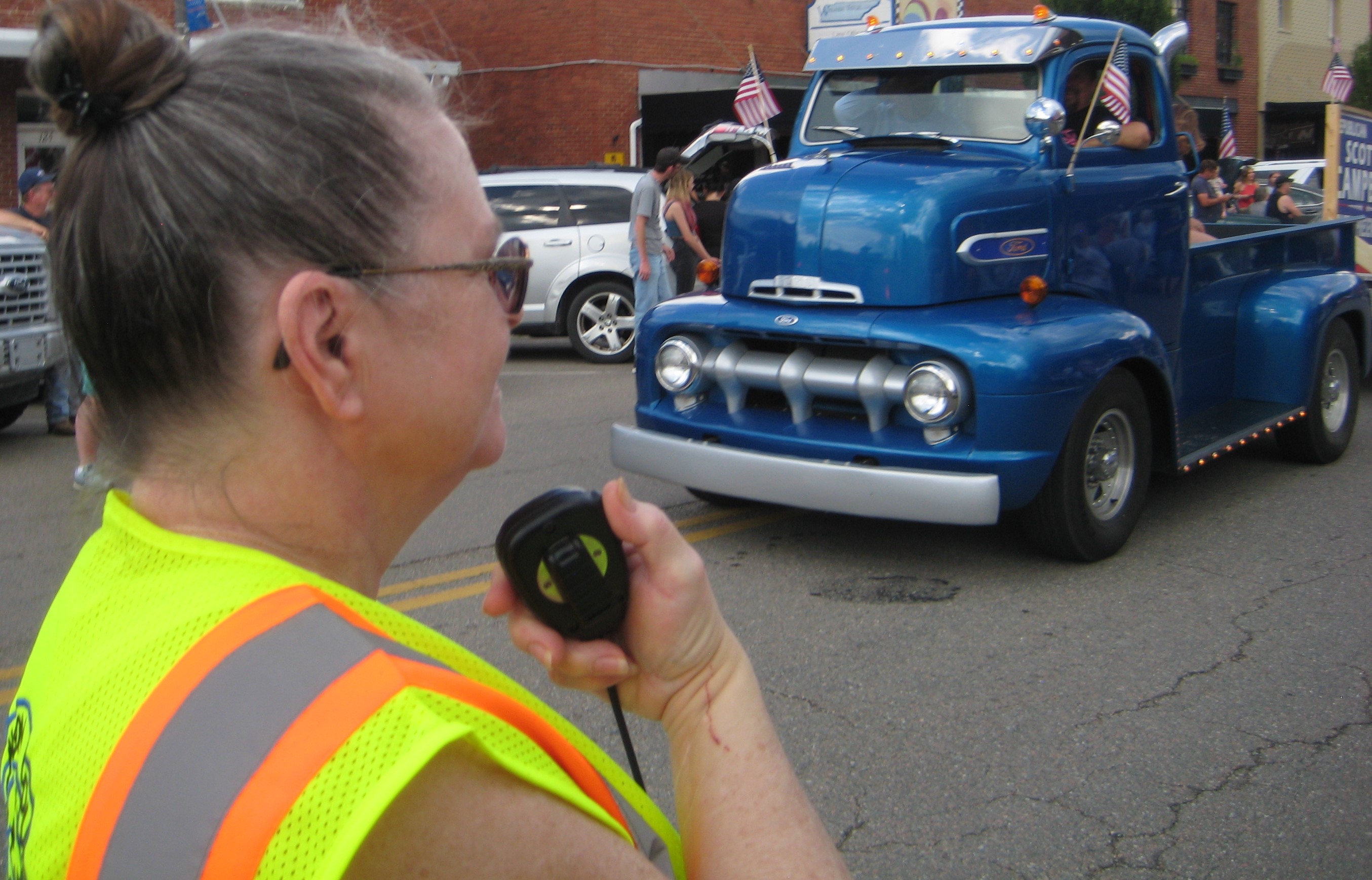 2022 Club Officers
President: Karen Weaver KW4DHT
Vice President: Mike Robertson KN4AUU
Secretary: Denise Robertson KN4WTP
Treasurer: Ted Jackson W4TVJ
Club Equipment Maintenance: Jack McElyea N4JEM, James Reece KJ4BKR, Mike Robertson KN4AUU
New Service: GMRS
JCARC is pleased to offer a General Mobile Radio Service repeater to our area. Set your input repeater channel at 5 (462.650 MHz +5 MHz offset) without a Tone set to transmit and receive.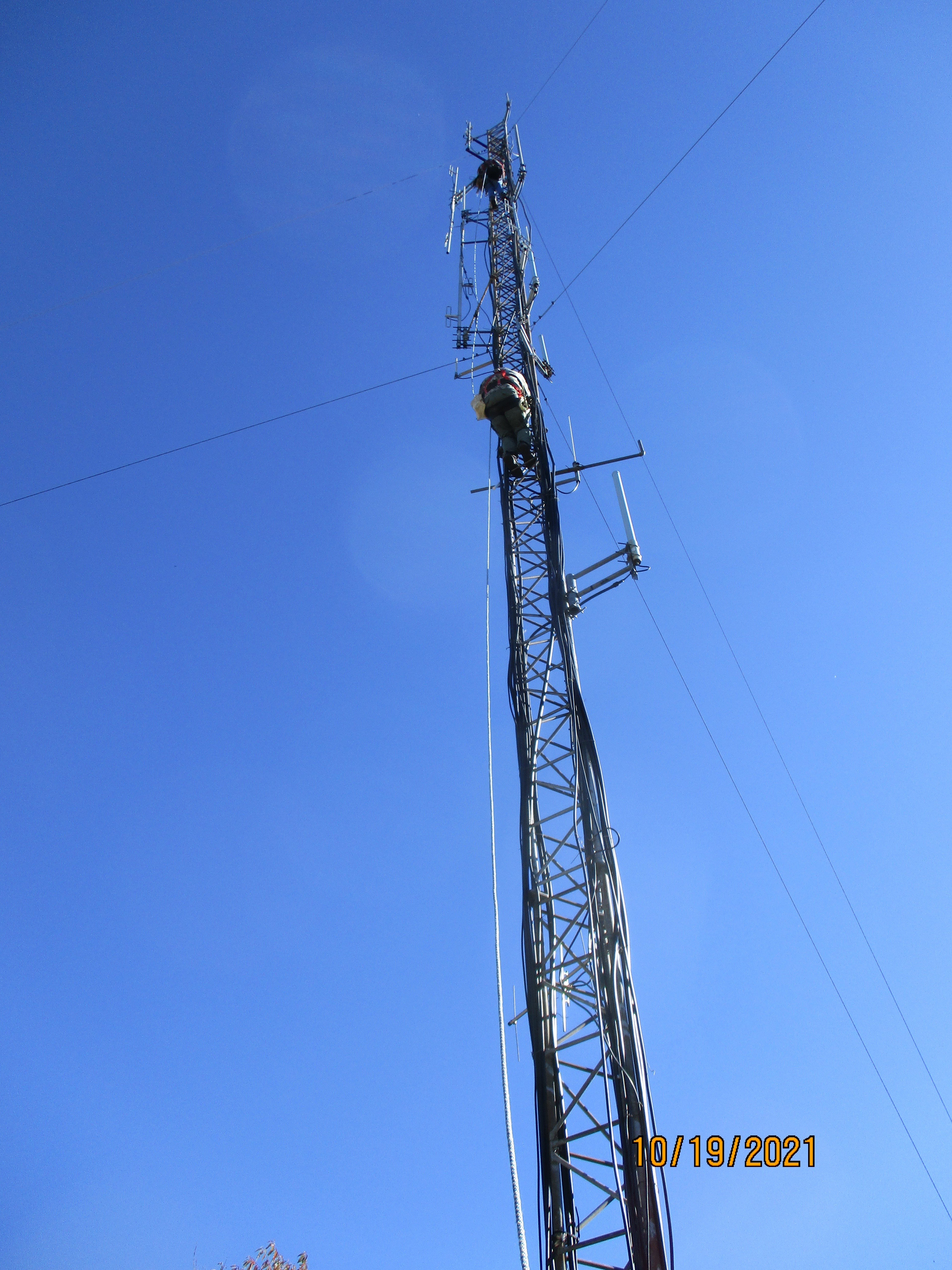 Jack M. with Dave R. following to install a new GMRS antenna with new heliax cable.
Calls fill the airwaves on Amateur Radio Operator's Field Day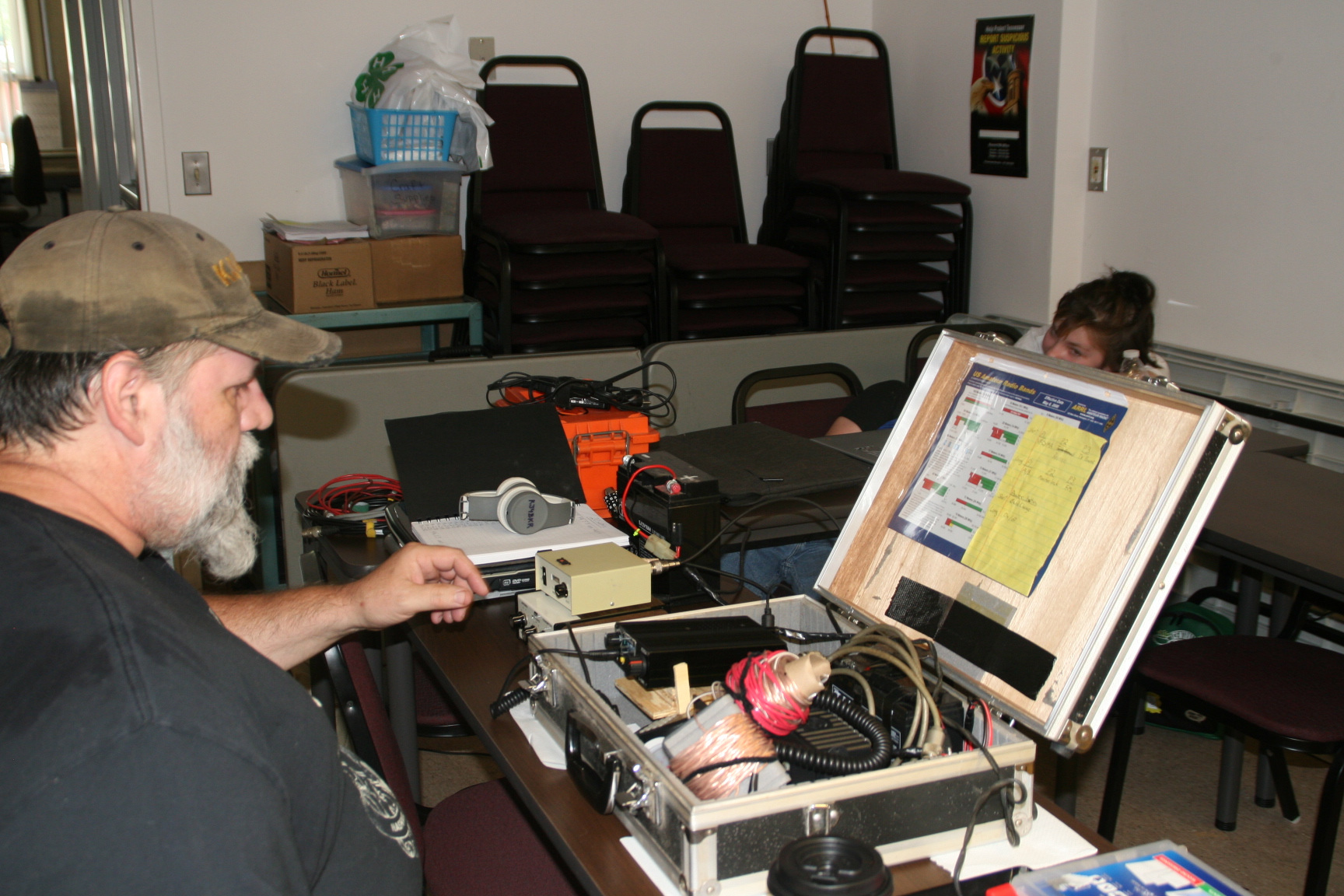 ---
The airwaves were filled with calls of "CQ, CQ, CQ!" during the Amateur Radio Operators Field Day activities over a 24-hour period in late June each year. Amateur radio operators from not only North America but from across the globe reached out to contact one another on a day dedicated to preparation and communication.
Amateur, or ham, radio is an activity enjoyed by many people around the world. In the United States, becoming a ham radio operator is open to men, women, and children of all ages. The only requirement is that you pass an exam designed to test your knowledge of basic radio mechanics and Federal Communications Commission (FCC) operating regulations. With radios now available for as little as $35, the world of ham radio is more accessible than ever.
The first step in gaining your amateur radio license is to study the materials covered on the exam. Study guides are available in book form as paperbacks or even available for your digital e-book reader. There are even apps and websites dedicated to helping those interested in amateur radio to review the material. The first exam will be the technician class exam. This test is made up of 35 multiple-choice questions. With the question pool being 300 questions and changing every few years, there is quite a bit of material to cover. Once you are familiar with the information and feel ready to take the test, you can find a local testing site using the ARRL.org website or by contacting your local amateur radio club.

After you pass your exam and the FCC has issued your call sign (the unique series of letters and numbers you will be using during radio operation), you may begin operating on the frequencies allocated to the Technician Class operators. More frequencies are available as you upgrade your license and become more advanced in the study and practice of amateur radio.
At times the mechanics of operating radios, setting up antennas, rules, regulations, and proper radio etiquette can seem overwhelming. This is why it is helpful to become active with your community's local amateur radio club. The local club for the Mountain City area is the Johnson County Amateur Radio Club or W4MCT as they are known on air. The club holds regular meetings the second Tuesday of every month in the Johnson County Rescue/EMS Crewett Building conference room. These meetings are a great place to ask questions and become familiar with all things related to amateur radio. The mentors of ham radio, or Elmers as they are sometimes called, enjoy teaching and advising those who are interested in becoming radio operators.
Field Day is an annual event sanctioned by the Amateur Radio Relay League (AARL) and is the highlight of many ham radio operators' year. With the radio frequencies becoming busy with traffic from points all across the United States as well as beyond, the chance to make contacts in far away locations increases dramatically.
By: Marlana Ward, Freelance Writer The Tomahawk Newspaper

K9 Operator Zulu Alpha Kilo oversees Field Day operations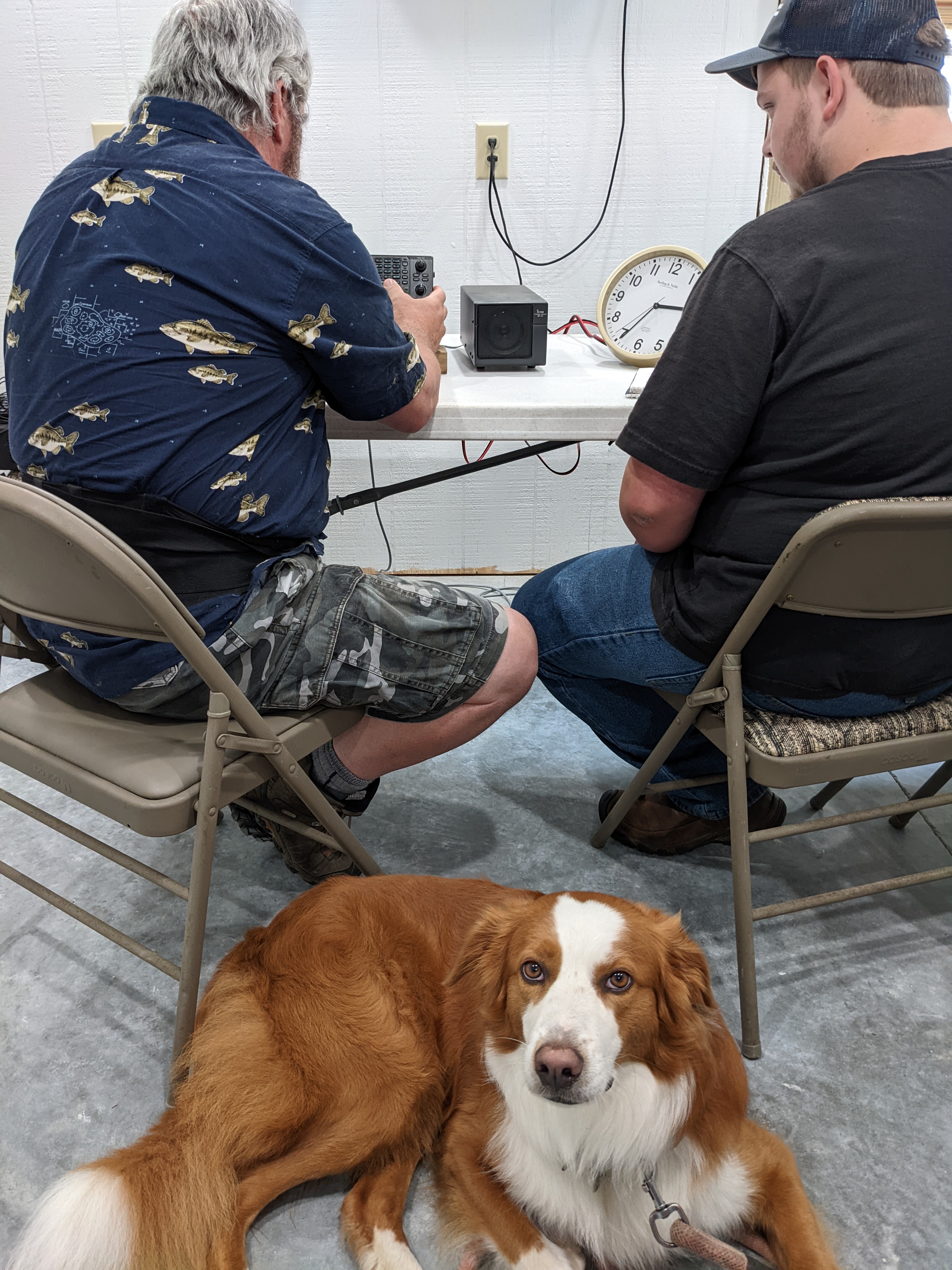 ---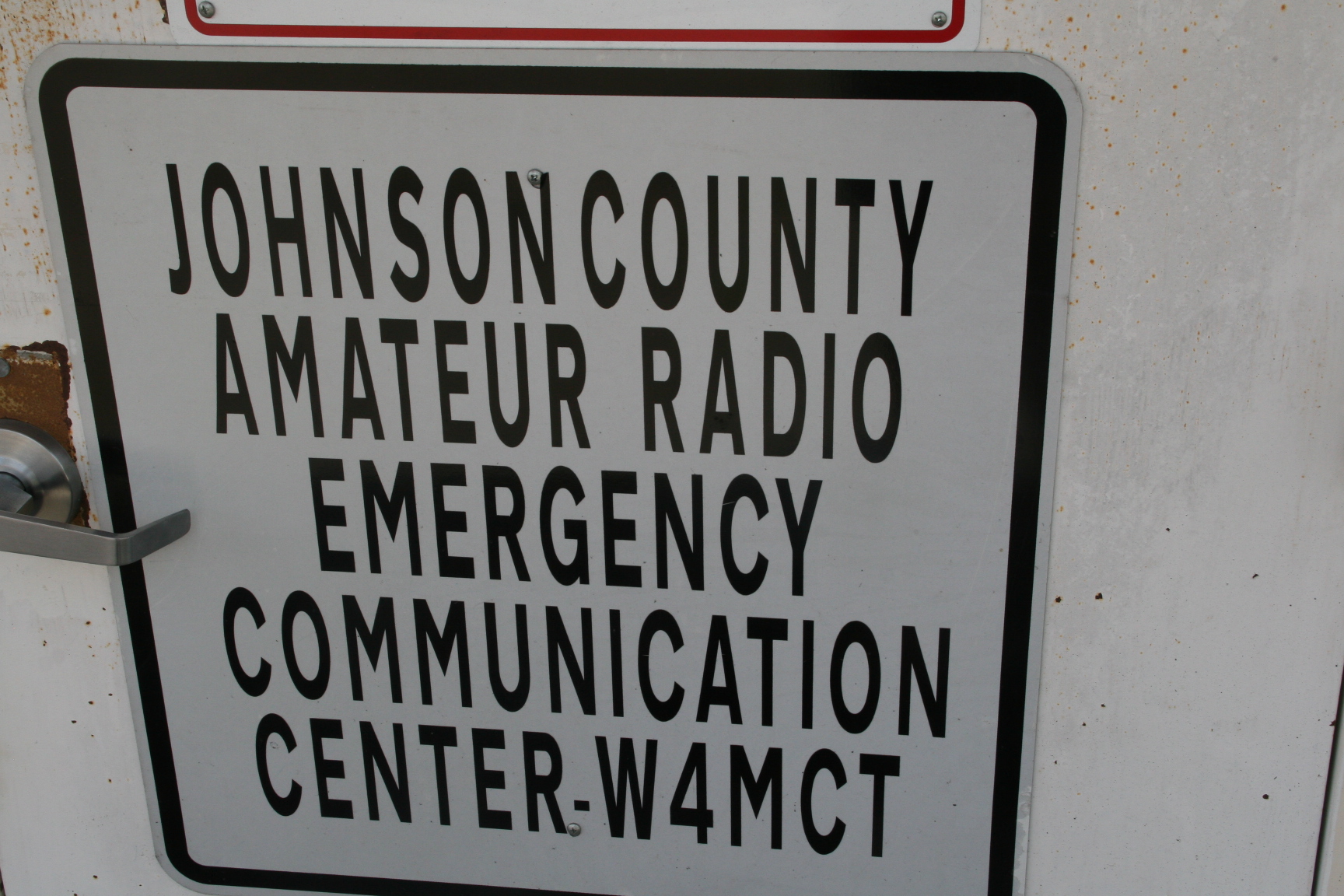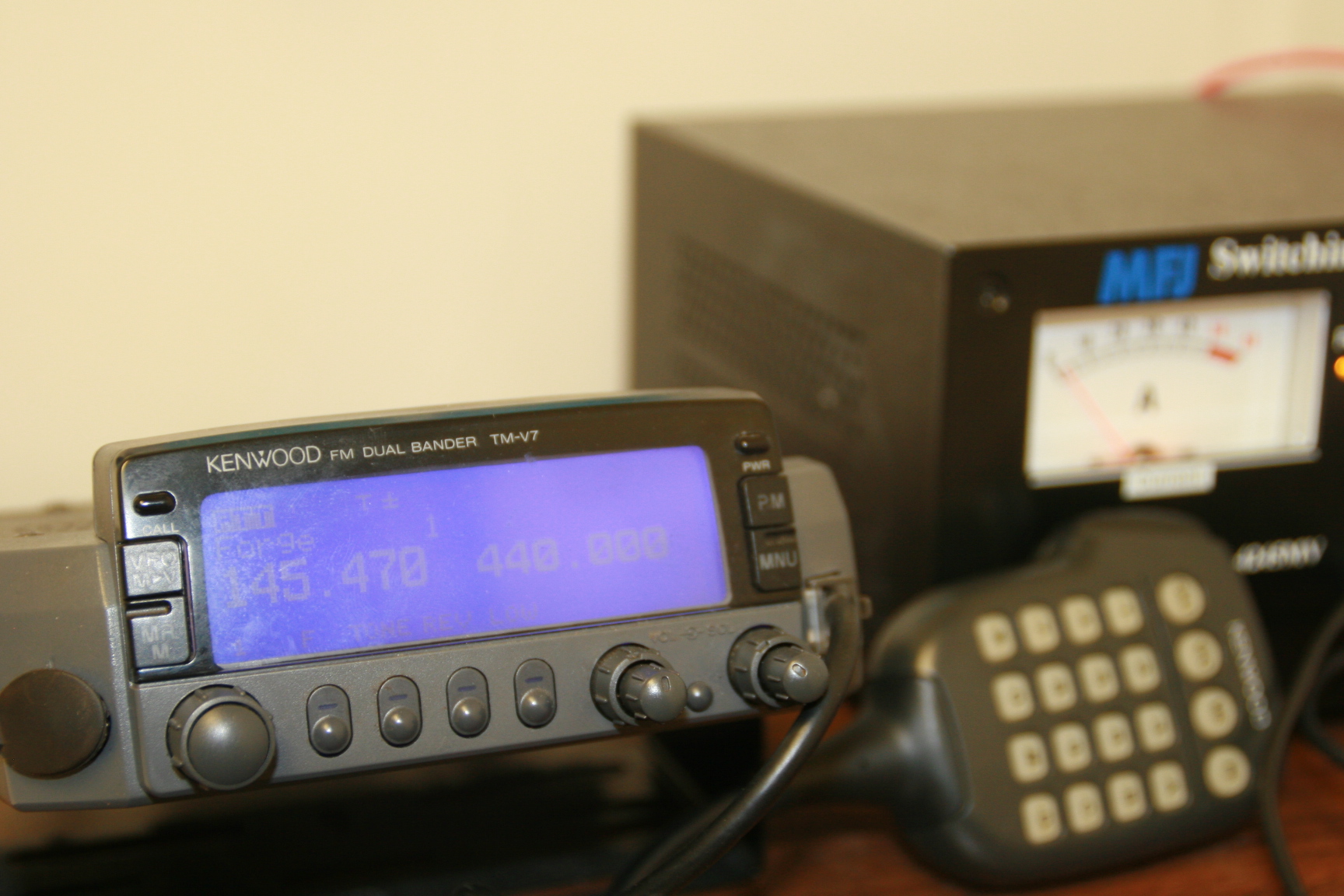 Equipment Shack
---
Repeaters and Frequencies:
Frequency Offset Tone
53.330 (-1.0) 103.5 in
224.280 (-1.6) 103.5 in
145.470 (-0.6) 103.5 in+out
146.610 (-0.6) 103.5 in+out
441.600 (+5.0) 151.4 in
443.925 (+5.0) 103.5 in+out
444.400 (+5.0) 103.5 in+out
462.650 (+5.0) no PL tone